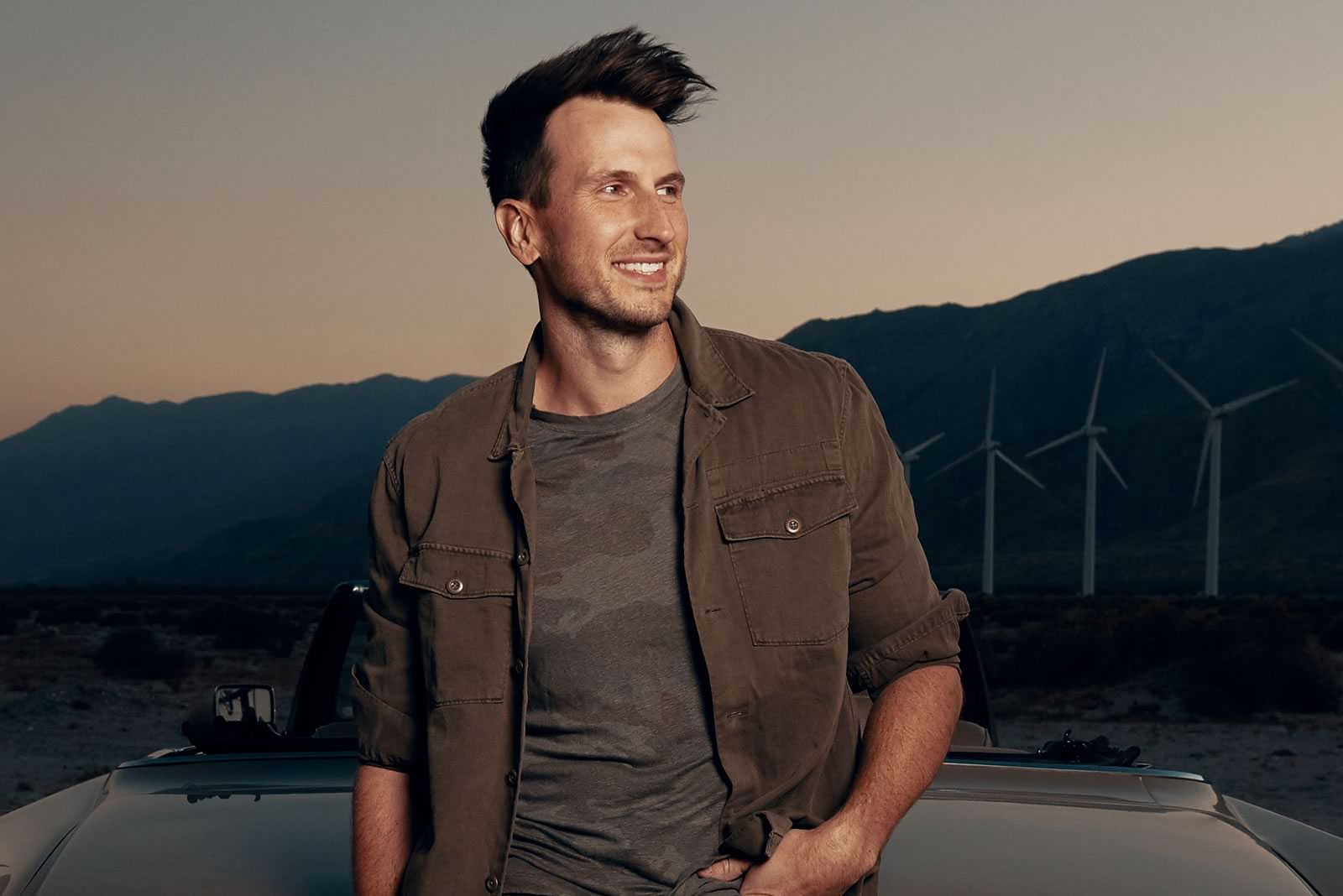 The little details always mean the most. Familiar pleasantries exchanged between neighbors, the taste of freshly brewed sweet tea, the brush of a fall breeze, and the buzz of a bug zapper after dark remind Russell Dickerson of home. The multi platinum Nashville-based singer, songwriter, and multi-instrumentalist transposes those small pleasures into hummable and heartfelt country anthems uplifted by pop energy on his second full-length album, Southern Symphony [Triple Tigers].
The record reflects every side of his personality—from the loving husband, self-proclaimed "regular dude," and now dad at home to the boisterous and bold presence beloved by millions on stage. Russell tells his story like never before through eloquent songcraft and airtight playing.
"I live in Nashville now, but I grew up in Union City, Tennessee," he says. "I'll always carry my hometown with me. I'll never forget all of those experiences from my childhood. In a sense, they raised me. Southern Symphony displays all of the pictures that made Russell Dickerson into Russell Dickerson!"
Audiences already know Russell Dickerson very well as a prolific songwriter and powerhouse showman. In 2017, his gold-certified full-length debut, Yours, bowed at #5 on the Billboard Top Country Albums Chart and #1 on the Emerging Artists Chart. Not to mention, it yielded three consecutive #1 smashes, including the double-platinum "Yours" (christened "One of the hottest wedding songs of the year" by The Knot), the platinum "Blue Tacoma," and platinum "Every Little Thing." Nominations followed at the Academy of Country Music Awards, CMT Music Awards, and iHeartRadio Music Awards. Among many highlights in 2020, he received a nod in the category of "Best New Male Artist of the Year" at the ACM. Plus, he has electrified audiences on tour with the likes of Thomas Rhett, Florida Georgia Line, Darius Rucker, Lady A, and Kane Brown in addition to bringing the "RD Party" to sold out venues everywhere as a headliner. Attracting a fervent following on social media (fondly referred to as "RD Fam"), he launched his own YouTube show, "This Is Russ," bringing viewers deeper into his world.
Along the way, he collected ideas for what would eventually become Southern Symphony.
During breaks from the road, he recorded back in Nashville alongside frequent collaborator Casey Brown and legendary producer Dann Huff. Together, they co-produced the record and put the finishing touches on it at the hallowed Blackbird Studio.
"Casey brings a young energy, and Dann is a legend," he smiles. "I actually met with Dann back in 2012, and he turned me down," laughs Russell. "He said I wasn't ready yet, so it was cool to come back around full circle. There was so much excitement."
This time around, Russell conjured the spirit of tried-and-true country by architecting the sonic framework out of organic instrumentation. "Southern Symphony was real and raw," he affirms. "We weren't trying to get quirky. Honestly, it was meant to be a bunch of big ole country bangers."
Speaking of, he introduced the record with "Love You Like I Used To." In between a soaring refrain, he pulls off a melodic guitar solo stretching to the heavens in tandem with his voice. Not only did it climb the country charts, but it also earned widespread acclaim. Dubbed "Romantic" by People, Taste of Country called it, "as much of a vocal showcase as we've heard from the western Tennessee native."
"If 'Yours' is a wedding song, this is your anniversary song," he states. "Love changes, love grows, and that's what I wanted to kick this record off with. I'm growing. I'm maturing. I think the song is an accurate representation of the album, the maturity of the songwriting, and the elevation of the production."
That shines through in the follow-up "Home Sweet" as well. A propulsive beat and twinkling keys underscore a love letter to his wife as it builds towards a joyful climax, "Sittin' on boxes in the livin' room laughin' and cryin', just staring at them two pink lines…Gotta make a little more room in our home sweet."
"The song starts off with us not knowing how we're going to pay rent," he recalls. "By the end of it, we've moved into our own house two years later on New Years' Day with three positive pregnancy tests."
A bluesy riff sounds off through stomping claps and stacked harmonies on the irresistible "Never Get Old." It culminates on an arena-ready chant before Dann churns out a twangy six-string lead.
"There are all of these country throwbacks in the lyrics," he goes on. "It's really meant to just be a good time."
Making for one of the biggest collaborations of his career so far, he teams up with chart-topping multi platinum duo Florida Georgia Line on the stadium-size and summer-ready "It's About Time." Images of "Bud Light half-price" and "truck stop ice" ignite a night you never want to end with swaggering verses and an intoxicating hook. On the other end of the spectrum, he heats things up with "All Yours All Night", a track for the bedroom. In many ways, the title track "Southern Symphony " crystallizes the story. Plaintive acoustic guitar entwines with heartfelt recollections of "Where I come from."
"It's really an ode to my hometown," he comments. "I'm speaking about all of the sounds I remember from my upbringing. When you find that person who makes you feel love, it compares to the nostalgic sensation of home. It's where I am now."
In the end, Russell might just make you feel at home forever on Southern Symphony.
"When you hear this, I hope you feel excitement, hope, and happiness in life," he leaves off. "I want to be a good steward in these songs. There's joy all around. I'm trying to spread a little bit of that. It's exactly what the world needs right now—and always."